Purity starts with the essentials.
And nothing more.

Zero Fillers.
Fillers and flow agents like Magnesium Stearate are used for one reason - to raise profits. They have zero health benefits, so you wont find any in Pure TheraPro Rx supplements.

Absolutely No GMO's.
All of our ingredients are non-GMO, but it doesn't stop there. At Pure TheraPro Rx we don't select raw materials based on cost. Each ingredient must meet our standards for purity, potency, and use in successful scientific research.

Meticulous Sourcing.
Clinically-backed premium ingredients only from reputable sources. 3rd-party testing for microbes, heavy metals. NSF & GMP-Certified Labs.
Even the longest journeys
begin with the first step.
In today's modern, info-driven and fast-paced society, the road to wellness and sustainable health is often a challenging one. We are here to support you along the way, whether you've never considered supplementation or you purchase from us weekly. Our mission from day one was to make wellness more attainable and allow people to finally experience honesty and transparency in the supplement industry. We're here for you as a resource on the journey to becoming the best possible version of yourself.
Our Philosophy
Where does your journey begin?
Choose a category you'd like to improve:
Our Most Popular Solutions
Saccharomyces 10B delivers a minimum of 10 billion CFUs (colony-forming units) of Saccharomyces boulardii per daily serving to support optimal gastrointestinal health.
It has been proven by researchers that the unique Saccharomyces boulardii Lynside® strain CNCM I-3799 can survive stomach acid and settle in the intestines, where it protects the good bacteria that are already there.
Additionally, it works with the body to re-establi...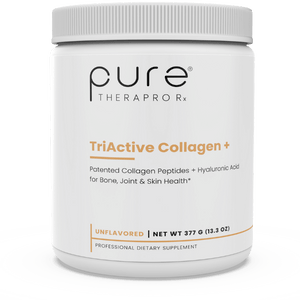 Pure TheraPro Rx® TriActive Collagen+™ is a hydrolyzed multi-Collagen protein powder supplement completely in a class of its own. It contains a wholly unique and clinically studied blend of patented Collagen peptides alongside highly beneficial co-factors, all in clinical dosing.
HAIR, SKIN, NA...
Elite IgG™ is an award winning, serum-derived immunoglobulin powder clinically proven to support robust immune function and optimal digestive wellness. Immunoglobulins work in your body by binding inflammatory, potentially toxic antigens within your digestive tract and prohibiting them from crossing the gut barrier. This has tremendous implications in supporting the restoration of...
Featured News & Media
Arthritis, derived from the Greek words "joint" and "inflammation", is a prevalent medical condition affecting a significant portion of the global population. It is characterized by inflammation and degeneration of the joints, leading to pain, stiffness, and reduced mobility. Arthritis encompasses a diverse range of conditions, each presenting unique characteristics, causes, and management approaches.
Methylation is a simple chemical process that happens in our bodies on the cellular level but isn't exactly simple for some. Certain people struggle with proper methylation, which means their bodies can't utilize B Vitamins effectively as energy as well as eliminate toxins which can cause oxidative stress and result in chronic illness.